Doors open at our new sister pub
We're delighted to have opened the doors at our newest sister pub right here in Hampshire! Just a short distance from us here in Crookham, we welcome The Royal Exchange into the Red Mist family.
Although it has a happy ending, the story of The Royal Exchange is not a simple one; in 2011, we were approached as a reputable local pub group by a member of the 'Pub Task Force' who had formed to try and save the Royal Exchange Lindford which had been put up for sale by Punch Taverns and was in a very dilapidated state having suffered years of neglect and lack of investment.
Mark Robson, Red Mist MD and Founder, went to speak to the Task Force and village firstly in November 2011 to offer advice and assistance on the best way forward for them to proceed in trying to save the pub. The Royal Exchange has a higher than normal value for a pub in the condition it was in because of the land with it that had potential for residential development.
In May 2012, we decided to make an offer on the pub and land. It was initially accepted and then, much to our disappointment, the seller pulled out of the purchase a few weeks later.
Between June 2012 and July 2014 Punch Taverns made three planning applications for residential development on the land adjoining the pub. The first two were rejected because no consideration had been made to improve or refurbish the pub. When the third application was submitted, again without any plan to invest in the pub, we anticipated another refusal and we contacted the seller with a proposal to purchase the site offering an assurance that the pub would be the main consideration of any further planning application.
In April 2015 planning was granted to make substantial improvements to The Royal Exchange Lindford and to construct four houses on the adjoining land.
In June 2015 we sold the land to a reputable local developer and in September we started the £750,000 renovation and refurbishment of the pub….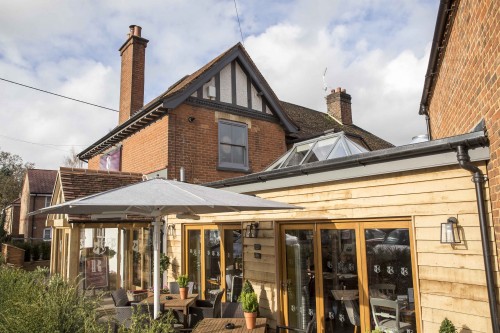 Now open 7 days a week and serving great quality, Hampshire sourced local food and drink, if you like what we do, you're sure to love The Royal Exchange too!
Discover the new Red Mist pub today
www.royalexchangelindford.co.uk