Here in the stunning Crookham Village, we have a vast array of activities within a stone's throw from The Exchequer.
---
From serene walks to soak up the Hampshire countryside, to action packed family outings, there is something for everyone to enjoy. We shortlisted a few of our favourite local attractions below:
Frensham Great Pond – (7 miles)
As far as man-made inland beaches go, Frensham Great Pond ticks all the boxes. The 13th century pond and surrounding area is a sanctuary for wildlife such as woodlarks and herons and is full of plant life.
A visit to Frensham Pond is a great family day out with its many woodland trails to walk and cycle around. Perhaps the sailing club will attract you with courses available for all experience levels, or simply a dip in the pond for those mad enough to go swimming in September.
---
Go Ape – (6 miles)
Not for the faint-hearted, Go Ape is a high climb trail in the tree tops of Alice Holt Forest. You will negotiate various zip wires, tarzan swings, rope ladders and more throughout the course. It's a great day out with family or friends and there is even a junior tree top adventure for the little ones (6 – 15).
If you are not so keen on clambering around 14 meters about ground level, there are plenty of other activities to enjoy at Alice Holt too. It's beautiful woodland walks and open spaces are perfect for relaxing away from the hustle of the crowds.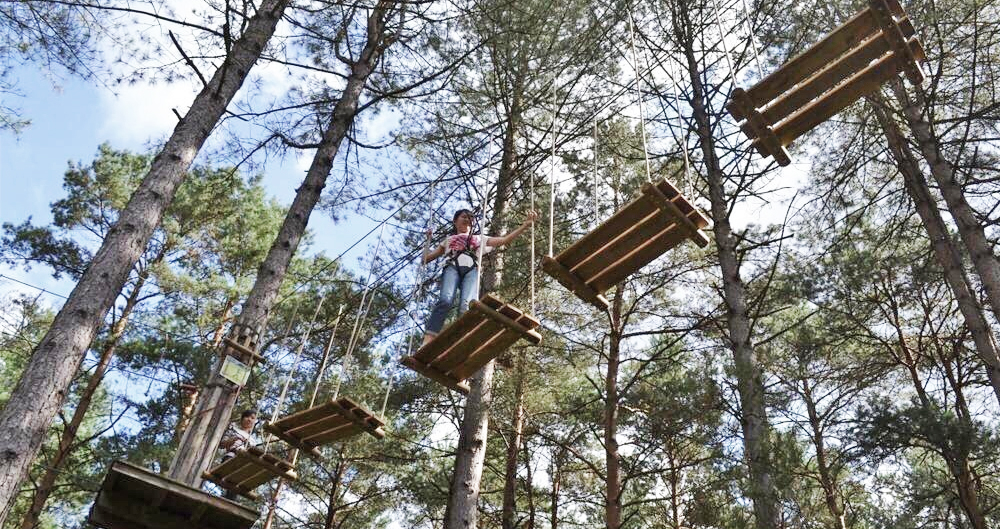 Fun fact: The surrounding woodland area was utilised in scenes from the films Gladiator, Captain America and Skyfall! If you see James Bond, don't be alarmed…
---
King John's Castle – (7 miles)
King John's Castle is located on the Basingstoke canal and its origins are somewhat of a mystery. With little recorded literature on the stone castle, and is thought to be a Norman settlement. Historians believe it was built in the 12th century and resembled a typical Norman layout. The castle may have once been a country home due to its large windows and little evidence of fortification.
It is a great focal point for a leisurely and meandering stroll down the Basingstoke canal; you can start the walk from our car park and join the trail just down the road. Pop by for a cup of tea and share your stories with our team after.
---
Aldershot Military Museum – (4 Miles)
The Aldershot Military Museum is located in the only surviving brick-built barracks left in Aldershot (built in the 1890s). It's a great educational day out for all ages with plenty of hands-on activities to get stuck in with. The visit will tell the story of daily life for both soldiers and civilians back in 1854.
With so much to do; tank simulators and guns and training tunnels to crawl through, all while being shouted at by a Sergeant Major (if you think you can handle it)! There is a range of events throughout the year so take a look at the website for the full details.